Posted at Aug 8, 2015 11:34 am in Chick Swagger, Flirting with Fate, novellas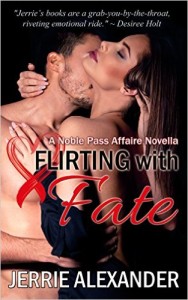 Big news at my house. Flirting with Fate, a Noble Pass Affaire novella has a release date of September 15th, 2015. Even better? It's available for pre-order for $2.99.
(Kindle) amzn.to/1Mw1pIo
(KOBO) bit.ly/1glSgVL
(iBooks) Apple.co/1P6hcMD
Here's the blurb to whet your appetite:
There is no such thing as accident; it is fate misnamed.
Napoleon Bonaparte
Elle Reagan isn't about to stand by and let a con-artist get away with stealing her grandmother's life savings. While the legal system moves at a snail's pace, Elle promises to bring him to justice. She follows him to a ski resort in Colorado, where she hopes to get the evidence needed to put him away for good. But she didn't count on her roommate being a distraction, because he wasn't supposed to be her brother's best friend.
Detective Logan Ford has denied his desire to take Elle into his arms since they were teenagers, but when his partner asks him to follow her to Castle Alainn to keep her out of trouble, Logan finds himself unable to refuse her. He agrees to help catch a thief instead of convincing her to pack her bags and go home. To make matters worse, he can't seem to remember why he should keep his distance from the delectable, infuriating, independent Elle.
Elle and Logan surrender to their attraction, but as their passion ignites, her plot is discovered. A killer will do whatever it takes to silence her and destroy a love that was destined to last a lifetime.
And now…more about the rest of the stories!
The Noble Pass Affaire books are standalone novellas that take place in beautiful Noble Pass, Colorado. When five different couples meet in an isolated mountain resort for a blind date contest, the sparks–and fun–fly! Romance and passion in five different and wonderful stories!
Here are the rest of the books if you're so inclined to check them out. And this is a link to our Chick Swagger page with all the book descriptions. 
Available for pre-order now!
Flirting with Fire by Misty Dietz http://amzn.to/1IqEbAP
Flirting with Disaster by Josie Matthews http://amzn.to/1D5rMCh
Flirting with Fate by Jerrie Alexander http://amzn.to/1Mw1pIo
Flirting with the Devil by Kym Roberts http://amzn.to/1OzgOoY
Flirting with Sin by Naima Simone http://amzn.to/1LTJISZ