Posted at Jan 4, 2017 8:07 am
Did you read Fatal Fiction by Kym Roberts? I hope so. If not, you missed a charming cozy mystery and a heroine everyone loves. The second in the Book Barn Mysteries promises to be even more fun! These are stand alone books, but I recommend you buy them both.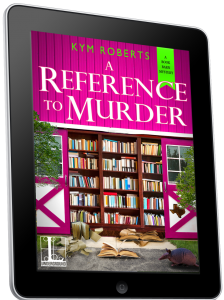 We left the barn door open–pre-order your copy of A Reference to Murder today! Cute town, engaging characters, hint of romance, and a well-plotted/paced mystery that kept me on my toes. Add in the quirky pet and the bookstore setting and it's a guaranteed favorite! I'm already looking forward to the next book in the series. Reading is My Superpower
A Reference to Murder Blurb:
Charli Rae Warren is back home in Hazel Rock, Texas, spending her time reading, collecting, and selling books—at least, the ones that don't get eaten first by her father's pet armadillo. Running the family bookstore is a demanding job, but solving murders on the side can be flat out dangerous . . .
The Book Barn is more than just a shop, it's a part of the community—and Charli is keeping busy with a fundraising auction and the big rodeo event that's come to town. That includes dealing with the Texas-sized egos of some celebrity cowboys, including Dalton Hibbs, a blond, blue-eyed bull rider who gets overly rowdy one night with the local hairdresser . . . and soon afterward, disappears into thin air.
Dalton's brother also vanished seven years ago—and Charli is thrown about whether Dalton is a villain or a victim. After a close call with an assailant wielding a branding iron (that plays havoc with her hair), and some strange vandalism on her property, she's going to have to team up with the sheriff to untangle this mystery, before she gets gored . . .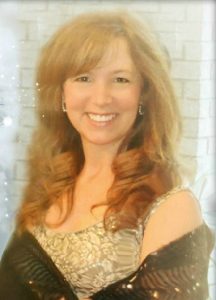 Kym's love for action and adventure goes all the way back to her childhood when a special spy ring guided her and her young pack of sleuths to the henchmen hiding in their neighborhood. Armed with a badge and the best equipment a few pennies could buy, she's carried that code of honor through adulthood and learned some juicy tricks along the way. 😉 Although she retired her special shield that's tattooed upon her heart, you might catch her wearing that ring when another secret mission calls her name!
Her humor is often raunchy, her jokes are often bad, but her hunger for a story keep the adventures coming fast. So Catch the Wave of passion, mystery, and suspense—with some stupid author tricks along the way!
Amazon: http://amzn.to/28Nlb4a
Barnes and Noble: http://bit.ly/2a0h4zn
Kobo: http://bit.ly/2a6MWIs