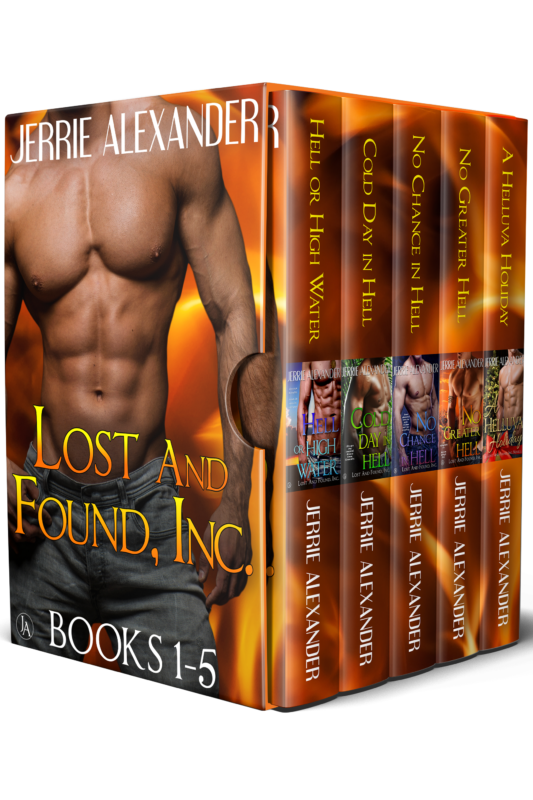 Lost And Found, Inc.: Books 1-5
LOST AND FOUND, INC.
Hell or High Water
A woman in danger. A man she loves but can't trust. When ex-SEAL Nate Wolfe learns the woman he loved but left behind is in danger, nothing will stop him from protecting her. Not the human traffickers. Not even her.
Cold Day in Hell
Ex-Army Ranger Tyrell Castillo's first mission for Lost and Found, Inc. goes awry when his contact is kidnapped, and he's left scrambling for weapons and explosives. He'll have to blow up a drug cartel's compound, rescue the woman, and keep her safe while they cross the sweltering hot Colombian jungle.
No Chance in Hell
Marcus Ricci' lands a puzzling case with too many missing pieces. A killer is closing in on the woman Marcus is supposed to protect. Guarding the beautiful Chris is his job—and he's one of the best—but keeping her close without letting her inside, makes it hard to protect his heart.
No Greater Hell
Former Army helicopter pilot Jake Donovan is lucky to be alive. At least that's what his team of neurosurgeons said. But he knows differently. Jake's crimes almost cost Holly Hoffman her life, and even though he can't remember, the pain in her eyes is something he'll never forget.
A Helluva Holiday
The Lost and Found, Inc. team is having a Christmas reunion, but Nate Wolfe places everything on hold when an old Navy buddy needs help. The team will fight freezing weather, a freak snowstorm, and a killer who is hell bent on accomplishing the task for his boss. Why is this piece of property so important? Can they unravel this puzzle in time to be home for the reunion?
From Goodreads reviews:
HELL or HIGH WATER
This one has everything—human trafficking with a diabolical matter mind at the helm; a vagrant who doesn't know who he is but who appears to have no emotions or conscience; kidnappings, murders, and seedy buyers. Add to that kickass action, mile-a-minute suspense, and a second chance romance that just won't quit. It all adds up to one hell of a good read.
COLD DAY in HELL
People running through the jungle, Drug Cartel and hot, sizzling, passion will keep you reading this book in one setting. We meet Ex-Army Ranger Tyrell Castillo. He'll have to blow up a drug cartel's compound, rescue the woman, and keep her safe while they cross the sweltering hot Colombian jungle.
NO CHANCE in HELL
I had been dying for Marcus' story. Chris was his perfect storm, she stood up to him and held up even more as her life was falling apart. The chemistry between these two, not just physical but emotional, was exciting to watch and read! The first page had me sitting up until the last WTH moment, nothing is as it appears in her books and this one word "SHOCKING" is all I can say!
A HELLUVA HOLIDAY
A helluva reunion with the men and women from the Lost and Found, Inc. A fast read that brought back all my favorite characters and gave me an update on their lives while introducing new characters. Love the way Ms. Alexander took us back to the ranch where she's obviously comfortable. A great treat for fans this holiday season!
Thank you for reading my stories. If I can entertain you, make your heart beat faster, or just make you smile, I've accomplished my goal.
As always, my books are standalones. The series books have interconnected characters who have their own story to tell, but each one ends with a happy ever after.
I hope you loved these stories as much as I loved writing them. A review on Goodreads, Amazon, and or BookBub will help spread the word and will be so very appreciated.