Posted at May 13, 2017 7:52 am
I recently did a test run and put book one of the Lost and Found, Inc series FREE! The response was so gratifying that I decided to leave it free on Amazon, Nook, Apple, Kobo, and Google books. While each book is written as a stand-alone story, book one is a great way to get started.
If you enjoy the book, and I hope you do, please stop by and leave a review on Amazon. Even a short five-word review can help spread the word.
Jump in and read book one while it's free!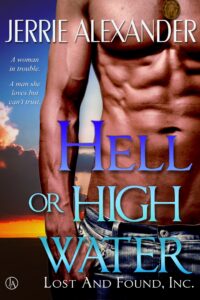 A woman in trouble. A man she loves but can't trust. When ex-SEAL Nate Wolfe learns a woman from his past is in danger, nothing will stop him from protecting her. Not even her. Dallas Child Protection Services Investigator Kay Taylor doesn't want or need Nate in her life. But he doesn't seem to understand the word no. He seems to also have forgotten the brand he left on her heart. When Kay is taken and sold to a monster, the devil himself couldn't stop Nate from doing whatever it takes to find her…but will he be in time?
Amazon – amzn.to/2fChGRf
Barnes & Noble- bit.ly/2g7cuWc
iBooks – apple.co/2fTtNqK