Posted at Apr 29, 2013 3:00 am
The day I kicked off my blog, I accepted that one day I'd struggle with what to talk about. And here I sit, watching this cursed cursor blink. It mocks me. Really, it's taken on a life of its own. You'll never convince me otherwise.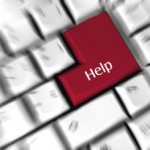 That steady rhythm, the flash, repeating these words. Not now, not now, not now. Try it! Take a look at yours. Go on, I'll wait.
Admit it, you tested me and mentally timed the flash by repeating not now, not now, not now. Didn't you?
I decided the time had come to dig through my resources. I'd saved notes I'd taken at different conferences I've attended. Surely, one of those would have something that caught my attention. An idea would form and I'd have this keyboard humming.
I remembered how Kristen Lamb, a guest speaker who guided us through a session on social media at the North Texas Conference, instructed each of us to write 100 descriptive words that would define us. Being the folder freak I am, locating my list was easy. Much to my disappointment, I only had 43 written down. None of them appealed to me.
I emailed a friend. She fired back a super interesting list. Truth be told, one of her ideas peaked my curiosity. Why are there so many varieties of dry cereal? The question was too deep for my shallow brain to ponder. Besides, she's started her own blog and will need to use those ideas.
The cursor continued its taunt.
This reminded me of when I write myself into a corner. That usually happens when I'm forcing my will onto a character. I had to cut an entire scene in NO TIME TO KILL, book two in the Lost and Found, Inc series, because my Army Ranger dug his heels into the jungle floor and refused to move forward.
Geesh, can you say temperamental male? Now I didn't have him walking unarmed down an dark alley where a serial killer was waiting. I wanted him to walk away from the heroine. (Not forever, just temporarily to add drama.) But oh no, that went against his moral code. His job was to rescue this woman, and until I cut him loose and allowed him to do it his way…we watched the cursor blink.
Sometimes, I have trouble releasing the reins. But when I do, things flow so much easier from my brain to my fingers to the keyboard.
How about you? Do you have trouble releasing the reins and allowing your imagination to run free?