Posted at May 13, 2013 3:00 am
My fourteen-year-old granddaughter just left with her mother. They stopped by on the way to school to let us see her brand new smile. Today was a big day for her. The braces came off. Her smile was blinding and beautiful.
She's due a good day. It's been quite a year for her. While at volleyball practice, her hamstring snapped off a one inch chunk of bone from her hip. Ten weeks later, after hobbling around on crutches and weeks of physical therapy, she'd managed to keep her grades up and herself on the head master's list.
Here's the picture I received the day the doctor released her. She was ready to rejoin the team.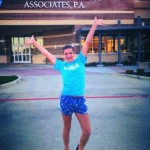 A week later, she bent two fingers sideways and missed another week.
All that was bad enough, but a few days after she started practicing with the team, she was hit in the temple by a ball. Yep. Slight concussion. She couldn't play until she'd passed a series of tests at the doctor's office.
A lot of time had passed. The team had formed, gotten used to each others strengths and weaknesses. Which meant she had to start from zero with one game left to play. An important game at that. This was the team's last chance to qualify for the national finals.
Would she get to play? Would she contribute? Would this group of fourteen-year-old girls welcome her back?
I'm happy to answer yes to those questions. Not that she played all the time, but she played and played her heart out. Her hits were spectacular. (I wouldn't want that ball hitting me) And most if not all of the girls embraced her as one of them. The team won first place in the tournament and will play in the national finals!
So why am I telling you this? Other than the fact I'm incredibly proud of her? Because of her resiliency. Her ability to face and deal with setbacks. To keep her head up when it seemed nothing would go right. I am awe struck by her determination and spirit.
Our young people have this incredible ability to bounce back from crisis. They have this innate ability to handle the up and downs of life, the disappointments, and even heartbreaks that we grownups would deem catastrophic.
Anybody know where that resiliency is stored? Is there a repository where I, now that I'm an adult, can go get a refill? I can't speak for you, but I could use a double dose.