Posted at Oct 14, 2016 2:12 pm
TILL THE DEAD SPEAK
Book two of the Killer Affections
Release 10-11-2016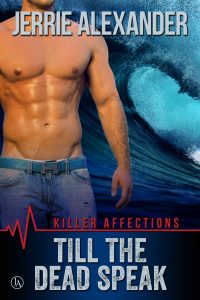 Amazon – http://amzn.to/2e2F4sU
Kobo – http://bit.ly/2dYlGZM
B&N – http://bit.ly/2e62eur
Google Play – http://bit.ly/2entMhM
Apple – http://apple.co/2e3iTgW
When an injury on the job sends FBI agent Linc Hawkins home to rehab, his plan to enjoy the Malibu surf and sand is interrupted when a cafe owner he befriends is murdered, and a promise to take care of the man's granddaughter must be kept. Keeping the sexy blonde safe and out of his arms proves to be a dangerous challenge, both to their lives – and to their hearts.
Samantha Anderson receives the shock of a lifetime when a grandfather she didn't know existed, dies and leaves her a fortune. The life-altering event sends her to a fairy tale beach in Southern California and makes her question if her entire past was a sham. Sam uncovers family secrets with the aid of a smoking-hot FBI agent who's hell-bent on keeping her safe. Sparks fly as they work side-by-side, and she finds herself falling in love.
The past and present collide as the pieces of this puzzle come together. Why was Samantha's grandfather killed? Why was he estranged from his real family? It's too bad the dead can't speak because Linc and Samantha will have to survive a killer bent on total destruction if they're going to find their happily ever after. 
A HELLUVA HOLIDAY
#5 An In-Between the Books Lost and Found, Inc. Novella
Release 10-13-2016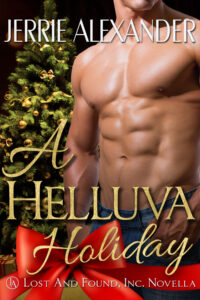 Amazon  http://amzn.to/2e8BecH
Kobo – http://bit.ly/2dMXKL1
B&N – http://bit.ly/2ejZmOb
Google Play – http://bit.ly/2dP0GcJ
Nate Wolfe places the Lost and Found, Inc. team's Christmas reunion on hold when a Navy buddy needs help.
Clay Hudson and Carol Penny have loved each other since high school. Time and circumstances placed them far apart over the years but now they're back home, during the worst cold weather Eden Rock, Texas has ever experienced. Clay's a successful vet and Carol's just been fired from her TV anchor job. She's come home to help her sister sell the family horse ranch, but when she discovers the buyer is actually a Mexican drug lord, she changes her mind.
The cartel won't take no for an answer, so Clay steps in to protect Carol, and calls in his old friend from Lost and Found, Inc. The team will fight freezing weather, a freak snowstorm, and a ruthless killer to discover why this piece of property so important. Can the Lost and Found team unravel this puzzle in time to be home for the holiday? Will Carol and Clay learn old love can be new again?