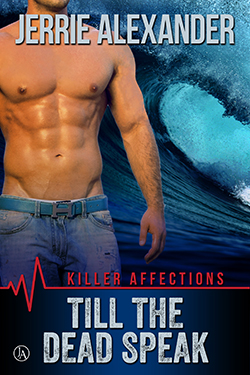 Till The Dead Speak
When an injury on the job sends FBI agent Linc Hawkins home to rehab, his plan to enjoy the Malibu surf and sand is interrupted when a cafe owner he befriends is murdered, and a promise to take care of the man's granddaughter must be kept. Keeping the sexy blonde safe and out of his arms proves to be a dangerous challenge, both to their lives – and to their hearts.
Samantha Anderson receives the shock of a lifetime when a grandfather she didn't know existed, dies and leaves her a fortune. The life-altering event sends her to a fairy tale beach in Southern California, and makes her question if her entire past was a sham. Sam uncovers family secrets with the aid of a smoking-hot FBI agent who's hell-bent on keeping her safe. Sparks fly as they work side-by-side, and she finds herself falling in love.
The past and present collide as the pieces of this puzzle come together. Why was Samantha's grandfather killed? Why was he estranged from his real family? It's too bad the dead can't speak, because Linc and Samantha will have to survive a killer bent on total destruction if they're going to find their happily ever after.