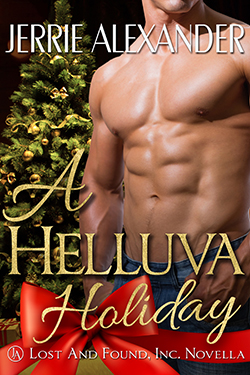 A Helluva Holiday
Nate Wolfe places the Lost and Found, Inc. team's Christmas reunion on hold when a Navy buddy needs help.
Clay Hudson and Carol Penny have loved each other since high school. Time and circumstances placed them far apart over the years but now they're back home, during the worst cold weather Eden Rock, Texas has ever experienced. Clay's a successful vet and Carol's just been fired from her TV anchor job. She's come home to help her sister sell the family horse ranch, but when she discovers the buyer is actually a Mexican drug lord, she changes her mind.
The cartel won't take no for an answer, so Clay steps in to protect Carol, and calls in his old friend from Lost and Found, Inc. The team will fight freezing weather, a freak snowstorm, and a ruthless killer to discover why this piece of property so important. Can the Lost and Found team unravel this puzzle in time to be home for the holiday? Will Carol and Clay learn old love can be new again?