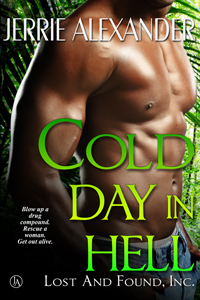 Cold Day in Hell
Ex-Army Ranger Tyrell Castillo's first mission for Lost and Found, Inc. goes awry when his contact is kidnapped, and he's left scrambling for weapons and explosives. He'll have to blow up a drug cartel's compound, rescue the woman, and keep her safe while they cross the sweltering hot Colombian jungle.
Driven by the need for revenge, Ana Maria Vega Cisneros doesn't want to be rescued. She wants revenge. She'll risk her life to ensure the drug lord who killed her family suffers the same fate.
The cartel leaves a trail of blood on their hunt for Ty and Ana. When Ty receives the order to kill the drug lord with extreme prejudice, he and Ana will face the enemy head on. Can Ty protect the woman who's hell bent on vengeance? The woman he's grown to love?