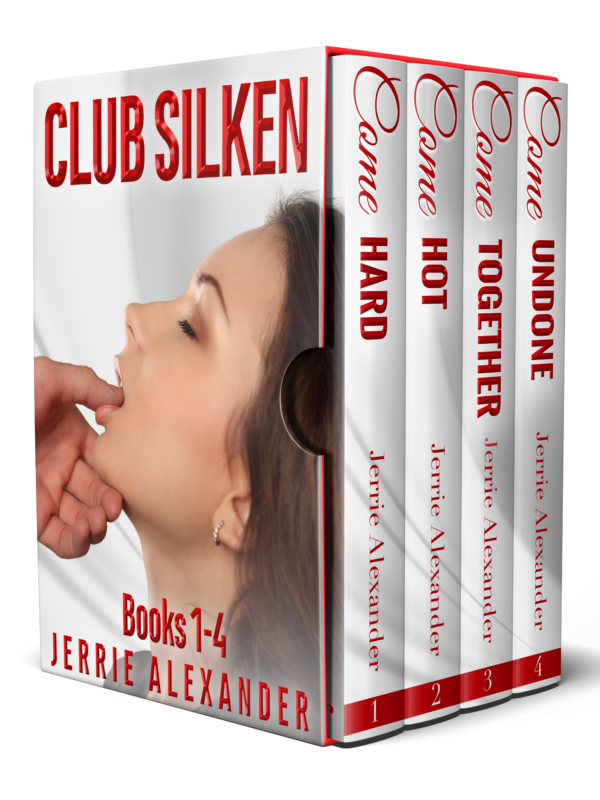 Come for the Holidays
Coming soon! A Club Silken collection that includes Come Hard, Come Hot, Come Together, and Come Undone!
Come Hard
Permanent isn't in my vocabulary…until she walks through my door.
My brokerage business built me billions, and my clubs wet my appetite. Not many women can handle the kind of kink I crave. When fate has Morgan knocking on my door, all I want to do is take her to Club Silken and make her scream.
Relationships are for the weak…so why do I want to give up control the moment we meet?
I've only experienced sex in shades of vanilla, but Zack…oh God, Zack…he turns me inside out with desires I've never known I had, but I sure as hell want to explore.
Come Hot
She's the only woman to ever run from me. Literally bolted and left me alone—fantasizing about the scene we'd perform at Club Silken. Six months later, the sexy runaway bridesmaid, Kayla, is back in town and I'm stuck escorting her down the aisle at our friend's wedding. She's more beautiful than I remember—a vixen in heels who feeds my desire to show her exactly what she missed.
Six months of intense therapy has allowed me let go of my ugly past and heal old wounds. I'm ready to live—quench the passion building inside me. Seeing Nick at the wedding sends my heart racing and makes me crave what he offered. His lifestyle scares me, yet the dark promises in his gaze are enticing and I find myself helpless to resist his touch, his kiss, his promise of ecstasy.
Come Together
Chelsea Coffman is one of those women who takes your breath away. The one heated look we shared exposed her trapped inner vixen just waiting for me to set her free. I was in no position to approach her then, but my life has changed dramatically after a year in Europe's club scene. I'll introduce her to the lifestyle, the pleasure, the ecstasy she craves. From the moment I looked into his heated gaze, Taylor Horne has starred in my late night fantasies, because in real life, my limo driver disappeared. Now he's back in town living in a much higher tax bracket and the hunger in his eyes won't be denied. Can I yield control? My independent spirit says no, but my shameless body screams, "Yes, Sir."
Come Undone
Justin Locke, better known as Slider, is on his way to the grand opening of Club Satin. It's his baby and he's not planning on being late. Everything changes when he stops to help a beautiful stranded motorist who's being harassed by some guy. Slider is stunned by her bravado and surprised when the fiery young woman refuses his offer of help, accepting only a ride home. He invites her to Satin but she turns that down too. Respecting her wishes, he drives away as she hurries inside her apartment.
Kenzie Stone grew up depending on no one but herself. It gutted her pride to allow the handsome good Samaritan drive her home. She has goals in life and won't be derailed by anyone no matter how he makes her feel. Besides, he owns an adults only club. She's read lots of romance novels and knows all about Doms and subs. The one thing she isn't is submissive.
The next day Kenzie is stunned to find her broken down car in the parking lot. It starts and purrs like a kitten. Someday, she'd pay back every cent he'd spent on repairs. On the passenger seat, she finds an invitation to Club Satin. It's valid on her twenty-fifth birthday.
Each book in the Club Silken Series is standalone with a guaranteed happy ending. A different individual from a group of men who are friends interconnects the stories. This series is intended for mature audiences only due to sexual situations and explicit language.